are we confused? yes we are.
we are looking at this as a purely marketing move, in fact within the realm of strategic marketing – palin as the republican vp partner of mccain in the presidential election.
are we confused? yes, we are. oh, i said that already.
palin as republican vp is either a brilliant marketing move or a big marketing blunder.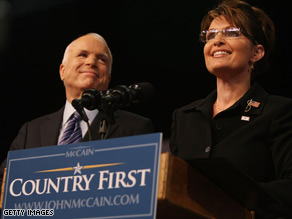 it's brilliant as for now, all the good things that were with the obama campaign - obama being an african american, hillary as a strong contender, and all the goodies that went with that, specially the one on hillary and the great convention that just ended have just evaporated and moved over to the republicans.
this choice for now has stolen the thunder away from the democrats. "stunning" is a word often used to describe the choice of palin. i agree wholeheartedly.
that leads us to downside. she is an unknown, at least for now but we will get to know her very well in short order. and that is where the other part comes in -- it can turn into the biggest marketing blunder made in political history.
while we do not know palin much, we do know hillary very well. hillary, the other woman candidate is very much a known candidate, almost the opposite of palin. while we may not know palin yet, it's almost a sure thing that hillary would have a longer list of accomplishments and credentials.
it's possible mccain just took in the weakest leak in his campaign.
while we do not know yet if palin as vp choice is a marketing blunder, we did know before and we are much more certain now that obama not choosing hillary as vp is a marketing strategic blunder. pailin in the mix reinforces and makes obama's non-choice of hillary as a much bigger and more obvious mistake. (read posts in WAWAM! on biden as a good choice but choosing hillary a brilliant move :
http://the-wawam-file.blogspot.com/2008/08/obamas-vp-choice-biden-is-great-but.html
).
as of this moment - the US presidential election is in a flux. much more interesting days ahead. take your seats!